EMG Quote of the Week – Make Learning Enjoyable!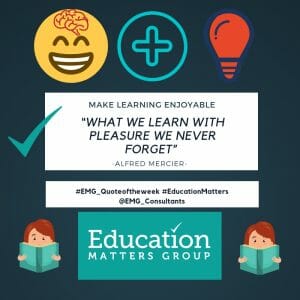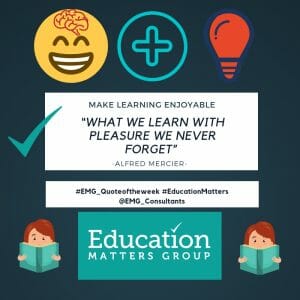 Ever had a lesson that was so boring that it was hard to forget it?? You probably have! Yet how much from that lesson do you remember and understand? What tends to usually happen is that we don't remember the content or concepts because we are dying inside from the excruciating pain – just simply wanting to escape that lesson and move onto something else.
When the opposite happens though, students often want to keep on learning. They are engaged with the learning because their interest has been stirred and they have developed a love of learning for that particular concept or content. When the enjoyment levels are much higher, generally each of the concepts taught are held by the learner. When they are engaged in learning, learning becomes something of discovery – an enjoyable experience. Learning needs to the main priority of this. By making learning engaging – pitching lessons and outcomes at the right level, students will enjoy  their learning. 
Some questions to consider though:
What learning styles are you accommodating? Can everyone be creative in some element with your lesson?
Is the topic of interest to the students? Or can I present it in an interesting way?
Is the topic going to give real value to your students? Can they make real connections with their learning?  
For more quotes of the week, keep an eye on #EMG_Quoteoftheweek!Written by Michael Dunn – EMG Consultant and Primary Teacher