EMG Quote of the Week – The importance of reading outside the classroom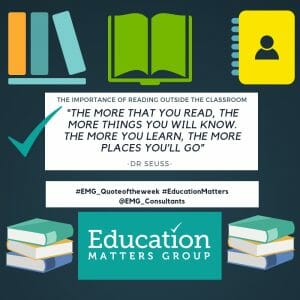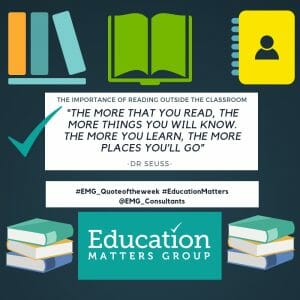 Dr Seuss may have been onto something here! Education is at the coal face of travel and expanding your horizons. Through work and travel lots of us have travelled to London and the other side of the world to seek something different. Being knowledgeable is a commodity and it's a definite commodity in the 21st century. Our students will travel more than we could even imagine. Giving the best possible start in education with lifelong learning skills, curiosity in learning and curiosity in different cultures and places is huge. As the world becomes smaller with technology, we are more in need of great communicators and people with skills for this 21st Century world. It simply opens doors and allows people to compete in a global, competitive market. 
For more quotes of the week, keep an eye on #EMG_Quoteoftheweek!
Written by Michael Dunn – EMG Consultant and Primary Teacher